Course in detail:
Shodo for beginners and advanced levels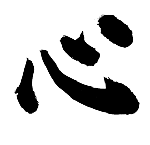 Ethan Weisgard and his Japanese co-instructor teach courses in Japanese calligraphy starting from beginners through to advanced levels. The basic course begins with the rudimental brush strokes and techniques, and the course finishes with the participants writing their own name in "katakana" (phonetic Japanese), as well as simple "kanji" (combined Japanese characters). We use either brushes and ink or "fudepen" (Japanese brush-pen) for writing.
A step-by-step course series is also an option, where the participants start with the beginner's course, and move through a series of additional courses of progressively more advanced nature. In the more advanced courses the participants write using fude (Japanese calligraphy brushes) and ink – a much more demanding process. The advanced levels work on more complex kanji, and different styles of writing – block form and flowing.
Shodo is much more than learning to write – it is a discipline that centers your spirit and enhances your motor skills, esthetic sense and visual perception.
Shodo courses can be tailored to suit the individual client regarding the duration of the course or course series, as well as the content.
Knowledge of the Japanese language is not necessary to take the Shodo courses. Participants will find that they will gain an understanding of the language – and the esthetics of Japanese culture – as they progress.
Martial arts clubs, schools, institutions and companies and private individuals with an interest in Japanese culture can all enjoy the challenges of this fascinating art.
Courses can be arranged in-house at Seidokan Japan Center (see Contact for address) or on location at the individual company or other place of choice.
For further information contact:
Tel.: (+45) 40 86 32 12
E-mail: info@japanbridge.dk